Cloud Storage Security Announced as Newest Addition to Schellman Alliance Program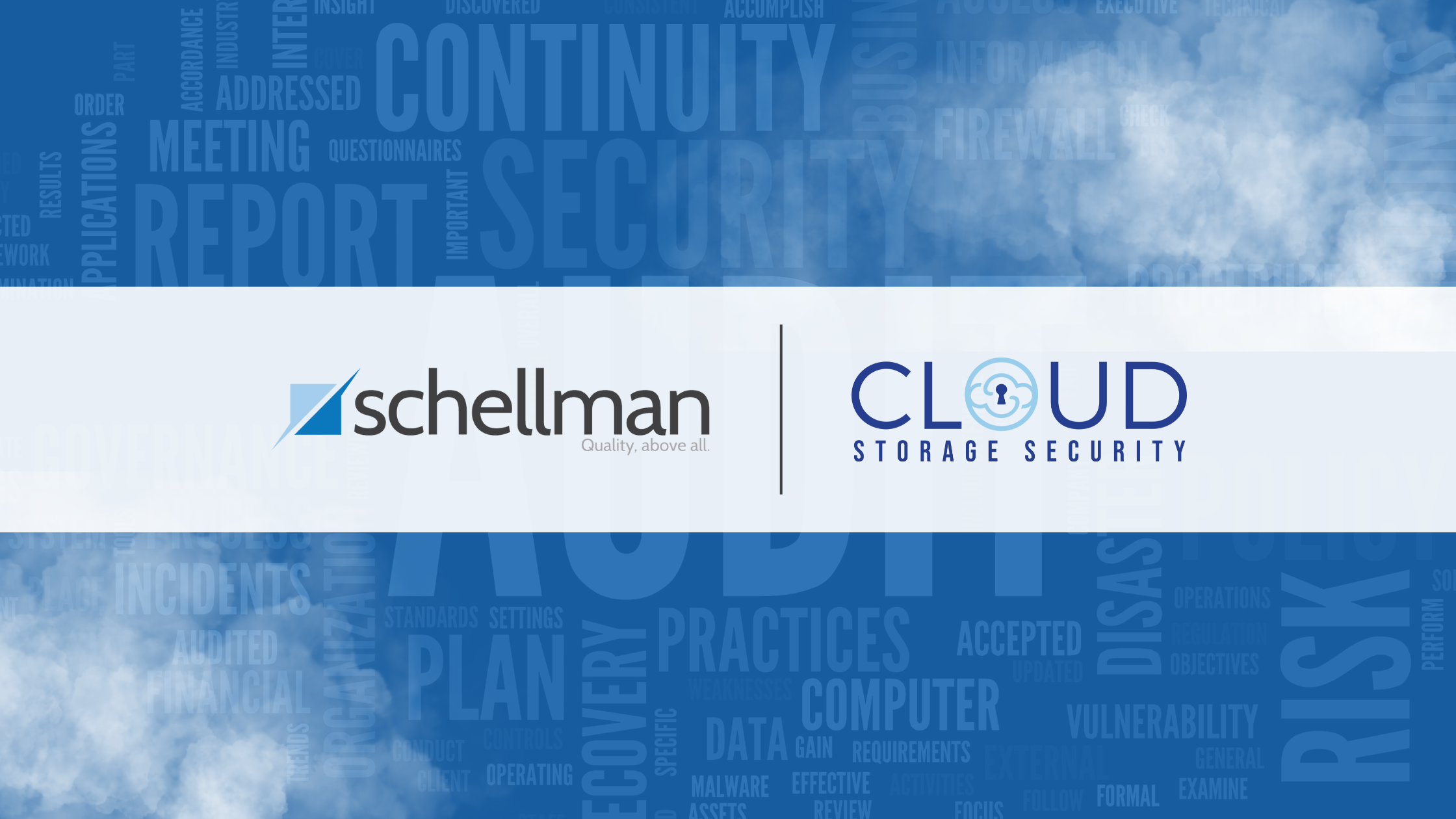 Newly formed alliance offers AWS storage data protection and attestation services for regulatory compliance
Schellman, a leading provider of attestation and compliance services and a top 50 CPA firm, and Cloud Storage Security (CSS), a leading cloud storage data security software provider, proudly announce the inclusion of CSS into the Schellman Alliance Program. This inclusion joins the expertise and capabilities of two industry leaders, with the aim of providing clients with streamlined avenues to compliance and audits.
Many frameworks such as HIPAA, PCI DSS, and SOC 2, mandate virus scanning and include data classification standards. Organizations may not realize they have security and privacy compliance gaps when it comes to the data in their cloud storage environment.
Schellman's extensive experience in audit, attestation, and compliance assessments perfectly complements CSS's antivirus and data classification solutions. Through this program, clients can benefit from the synergy of the two organizations and offer businesses a way to meet and maintain regulatory compliance through Schellman's certification services with advanced compliance and audit reporting, while providing access to CSS's ability to help organizations quickly discover, scan, secure, and report on infected files and sensitive data. These advanced technological solutions can help drive operational excellence, enhanced trust, business continuity, competitive edge, and a secure, forward-looking environment in the client's respective industries.
"Our partnership with Schellman represents a shared commitment to make it easier for customers to validate and maintain regulatory compliance in cloud storage," stated Scott Mathewson, Director of Channels at CSS. "CSS is proud to provide malware and sensitive data discovery solutions that customers can use to remediate gaps and noncompliance that Schellman uncovers."
"We are excited to add Cloud Storage Security into the Schellman Alliance Program. In tandem with CSS, we are building a collaboration that supports our client's unique compliance journey from secure start to finish. This partnership strengthens our commitment to delivering exceptional quality while continuing to be a firm our clients can trust," said Michael Parisi, Head of Client Acquisition at Schellman. "This reinforces our commitment to delivering exceptional quality and value while continuing to exceed client expectations."
About Cloud Storage Security
Organizations of all sizes turn to Cloud Storage Security (CSS) to extend data privacy, meet compliance requirements, and manage data security. Specifically, they turn to CSS to prevent the spread of malware, classify sensitive data, and assess their storage environment. CSS solutions are used worldwide because they fit into any workflow without disruption and data never leaves the customer's account. CSS is an AWS Public Sector Partner and AWS Marketplace seller with an AWS qualified software offering, AWS security competency, and an AWS Authority To Operate designation. Organizations can take advantage of a free trial in AWS Marketplace.
About Schellman
"Schellman" is the brand name under which Schellman & Company, LLC and Schellman Compliance, LLC provide professional services. Schellman stands as a leading global provider of attestation, compliance, and certification services. Operating under two distinct entities, Schellman & Company, LLC (a top 50 firm) and Schellman Compliance, LLC (a globally accredited compliance assessment firm which is not a licensed CPA firm). The services provided by the Schellman entities include acting as a CPA firm (Schellman & Company, LLC Florida license number AD62941) as a leading provider of SOC reports, an ISO Certification Body, a PCI Qualified Security Assessor Company, a HITRUST assessor, a FedRAMP 3PAO, and being among the pioneering CMMC Authorized C3PAOs.

Renowned for its professionals' expertise combined with practical experience, Schellman delivers superior client service while upholding steadfast independence. The company's approach fosters successful, long-term relationships, enabling clients to achieve multiple compliance objectives through a single trusted third-party assessor. For further information about the services provided, please visit schellman.com.