Antivirus for Amazon S3: An Easy Way to Extend Security Offerings and Drive Business




Organizations need to intercept advanced threats & meet compliance requirements without disrupting their workflows. Learn how you can help and make money in the process.


Customer applications that allow users to upload and download files via workflows using Amazon S3 are gateways for viruses, ransomware, trojans and more. All it takes is one infected file to degrade the functionality of their app, the security of their organization, and the ability for them to do business.
Moreover, regulatory and cybersecurity frameworks require organizations to demonstrate use of antivirus and anti-malware software (e.g., SOC 2, ISO 27001, PCI DSS). AWS does not provide this service natively and customers are willing to do (and spend) what it takes to protect themselves and their users.
Together, this is where we add value. Leverage Antivirus for Amazon S3 to open security conversations with both new and existing customers. Ask them if they store data in S3 and if they allow third parties to upload files that can be shared with others. Determine whether they are making sure files are safe before they're shared and how they're passing audits. Antivirus for Amazon S3 may be the solution they need.
Antivirus for Amazon S3 uses industry-leading detection engines and multiple scanning models to automate malware detection and quarantine files, all while proving compliance reporting.
By working together, we can improve customers' cloud security, build trust, and strengthen relationships.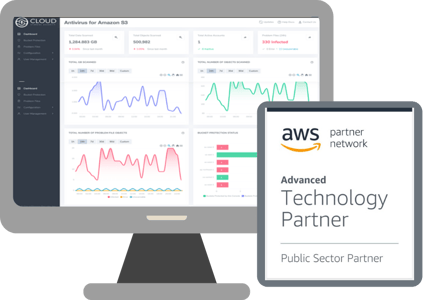 Special Offer for Partners
---
Complimentary Amazon S3 Data Security Assessment
Scan customers' existing data for malicious content, quarantine problem files, and provide assurance that their data is safe. Perfect for customers who have never scanned objects in S3 for advanced threats or for customers who want a point-in-time report for compliance audits.
$0 to scan up to 1 TB of existing data per customer in 30 days

$100 in AWS credits to
offset infrastructure expenses

20% off standard pricing
going forward
Promotion valid until April 30, 2022
---
Contact us to activate the Assessment
or
Visit AWS Marketplace to initiate a standard free trial
(Customers can scan up to 500 GB over 30 days via our standard trial)


Protect Against Malware
Identify and remove malware by scanning all objects and files, no matter how they arrive in Amazon S3, for even the largest data stores

Provide Compliance Assurance
Set scheduled scans and scale scanning agents to meet SLAs for malware scanning and other common compliance requirements

Identify Insecure Buckets
Gain visibility into misconfigurations across all Amazon S3 buckets to easily identify and fix buckets with secure and insecure permission policies

Safeguard All Storage
Quickly protect all accounts, regions and buckets; Antivirus for Amazon S3 runs in tenant so data doesn't have to leave the customer's environment
Upsell Opportunities
---
Talk to customers who have an existing application workflow that uses Amazon S3; who are building a cloud-based app using S3; or who are migrating to S3. Target Application Owners, CISOs, Security Engineers, and DevSecOps.
Propose Antivirus for Amazon S3 to new clients that competing resellers overlook.
Maximize long-tail MRR:
Modest Antivirus for Amazon S3 subscription fees are easy to bundle in

Provide managed service offering for additional services revenue
Built for Partners
---
No upfront cost to get started
Flexible features: Multi-client, multi-region deployment from single dashboard; in-tenant or SaaS delivery model; deployment via containers for easy updates
Sales support: Dedicated training; meeting and demo support; joint marketing
Customer support: 24x7 support available; dedicated Slack channel available
Learn More From Our Founder & CTO
---
Contact us to activate the Assessment
or
Visit AWS Marketplace to initiate a standard free trial
(Customers can scan up to 500 GB over 30 days via our standard trial)
What Antivirus for Amazon S3 Users are Saying
---

Exactly what we needed
Glad to have found this product on Marketplace. We were considering one of the higher cost data security platforms to scan our S3 buckets, but found that most of them don't directly scan the files in S3 like this solution does.
Installation was also a lot simpler and faster than the other options that we initially considered. The retro scan feature has been especially useful for meeting our SLAs for compliance requirements. Kudos to the support team, they are always fast to respond and helpful when it comes to answering questions we had.
Dan Iorg | Verified purchase review from AWS Marketplace

Helping us win
Antivirus for Amazon S3 plays a key role in maintaining our SOC 2 certification and ISO 27001 compliance, integrating easily into our application workflow and our SOC operations.
It is also helping us win new business, assuring security conscious customers that all user uploaded files are scanned and secure before they are shared with other users.
Darragh Duffy | Software & Infrastructure Engineering
Workvivo

Love this product.
Super easy to use!
This product was a huge time saver for me. I had been using a home grown solution that used ClamAV and some Lambda functions to scan objects in S3. The solution was a pain to deploy and had object size limitations around 400MB.

I was able to deploy this solution in about 5 minutes with their CloudFormation template and love that it uses Fargate so I don't have to maintain any EC2 instances. It even has a multi-region version for redundancy. Great product!
Christinith | Verified purchase review from AWS Marketplace

Contact us to activate the Assessment
or
Visit AWS Marketplace to initiate a standard free trial
(Customers can scan up to 500 GB over 30 days via our standard trial)