Cloud Storage Security Partners with CrowdStrike to Deliver AI-Powered Malware Scanning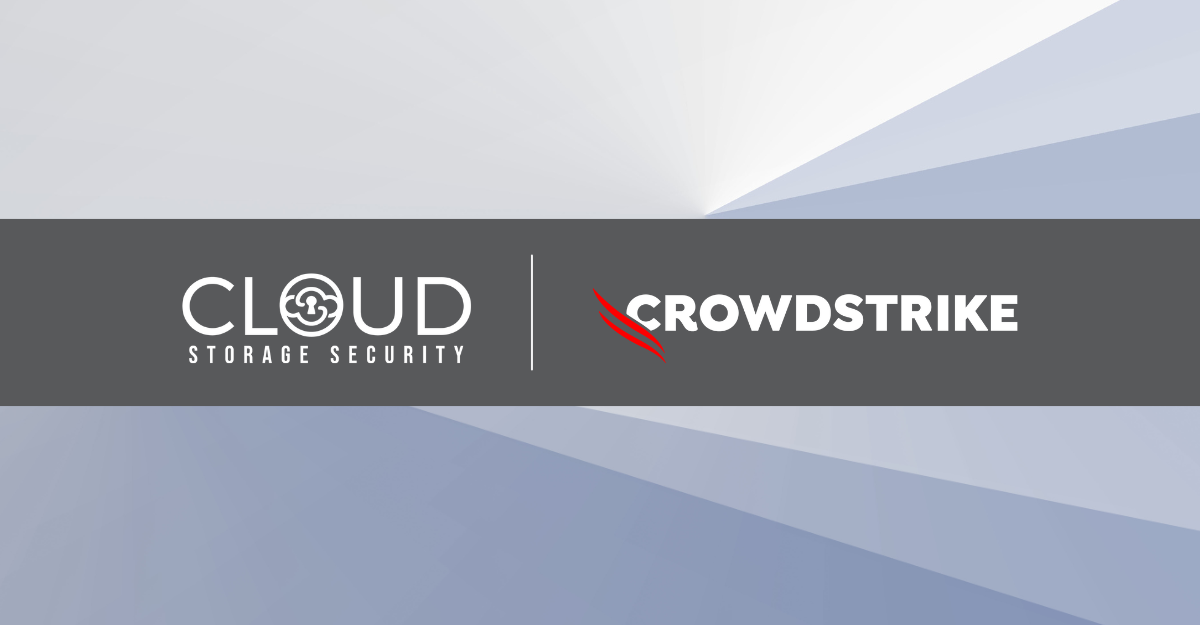 Organizations can now leverage CrowdStrike's machine learning technology to scan files in AWS storage for malicious code.
July 26, 2023 – Cloud Storage Security (CSS), a rapidly growing data security provider focused on malicious code detection and sensitive data discovery for AWS storage services, today announced an original equipment manufacturer (OEM) partnership with CrowdStrike, a leader in cloud-delivered protection of endpoints, cloud workloads, identity and data. Through the partnership, CSS' antivirus solution offers file scanning with enhanced malware detection delivered by the CrowdStrike File Analyzer Software Development Kit (SDK).
"CrowdStrike's ability to leverage AI and machine learning to detect both zero-day and known malware provides an extremely effective way for our customers to identify high risk files," said Ed Casmer, CTO and Founder of CSS. "Of its many benefits, the CrowdStrike Falcon platform is trained by tens of millions of files and trillions of telemetry events sourced from the CrowdStrike ecosystem, providing hyper-accurate threat detections. We are proud to partner with the cybersecurity leader that's respected and trusted by companies around the world."
CrowdStrike's File Analyzer SDK is a component of the CrowdStrike Falcon® platform, which provides organizations with the capability to scan files leveraging machine learning to detect malicious files. Customer benefits include:
• Unlock complete visibility into all file activity and perform deep threat analysis
• Eradicate novel and evasive malware, leveraging ML models trained on CrowdStrike's database of millions of malware samples, before it spreads laterally
• Save time and boost efficiency with continuous scans before and after file ingest for known, new, and zero-day malware.
Antivirus for Amazon S3 supports AWS-managed services including Amazon Simple Storage Service (Amazon S3), Amazon Elastic File Store (Amazon EFS), and Amazon Elastic Block Store (Amazon EBS). Learn more about the integration and get started with a free trial in AWS Marketplace today.
About Cloud Storage Security
Cloud Storage Security (CSS) is an AWS Partner that prevents the spread of malware, locates sensitive data, and assesses storage environments for applications and data lakes that use AWS storage services. Their solutions are used worldwide by agencies and enterprises of all sizes because they fit into any workflow and data never leaves the customer's account. CSS is an AWS Public Sector Partner and AWS Marketplace seller with an AWS qualified software offering, AWS security competency, and an AWS Authority To Operate designation. Take advantage of a 30 day free trial.
A link to the original press release can be found here.